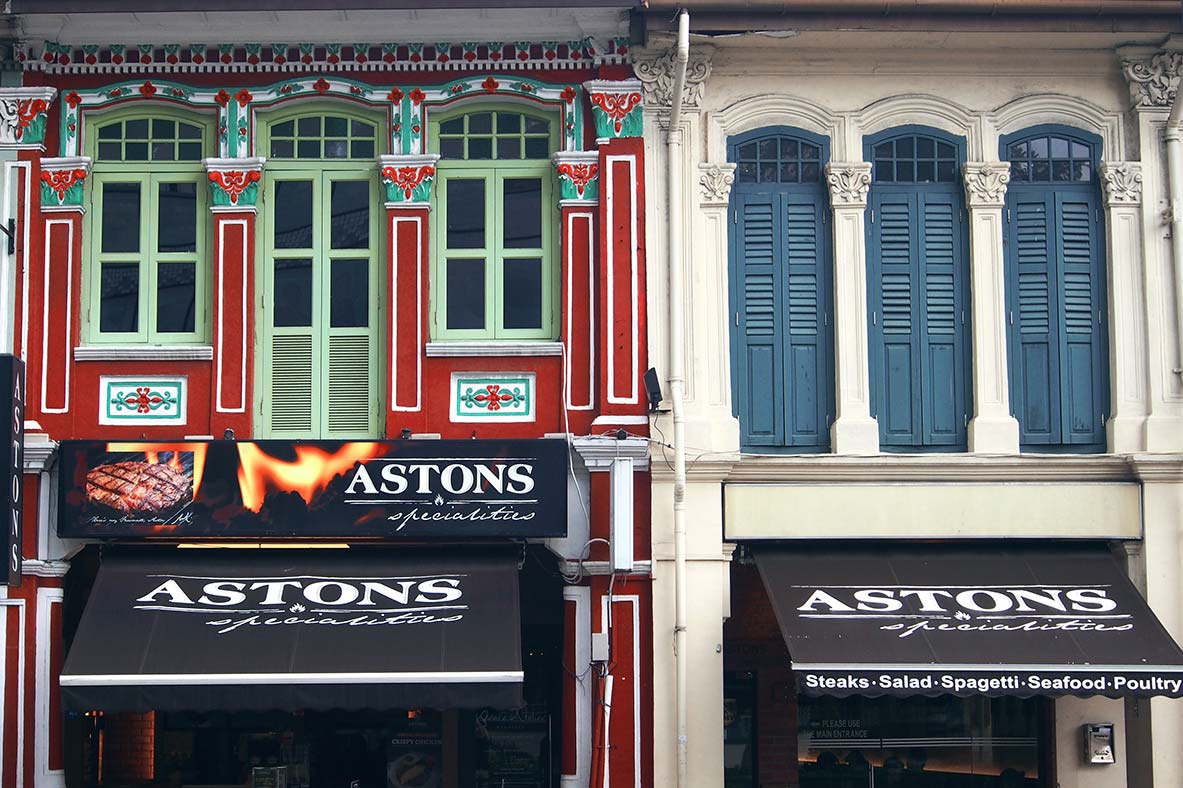 Local F&B Brand Breaks Ranks with
Good Ole Western Imagery
It started out as one man's dream – quality Western cuisine to the masses at affordable prices. A feeling that's akin to eating out in the wild west, of having that dinner steak done perfectly over open fire, plus the pleasure of seeing patrons returning regularly for a satisfying value-for-money meal, like friends. These were the tenets of a vision shared by entrepreneur, Mr Aston Soon, as he set out to plan for his first restaurant. Those tenets also formed the pyramidal base for the brand DNA of ASTONS.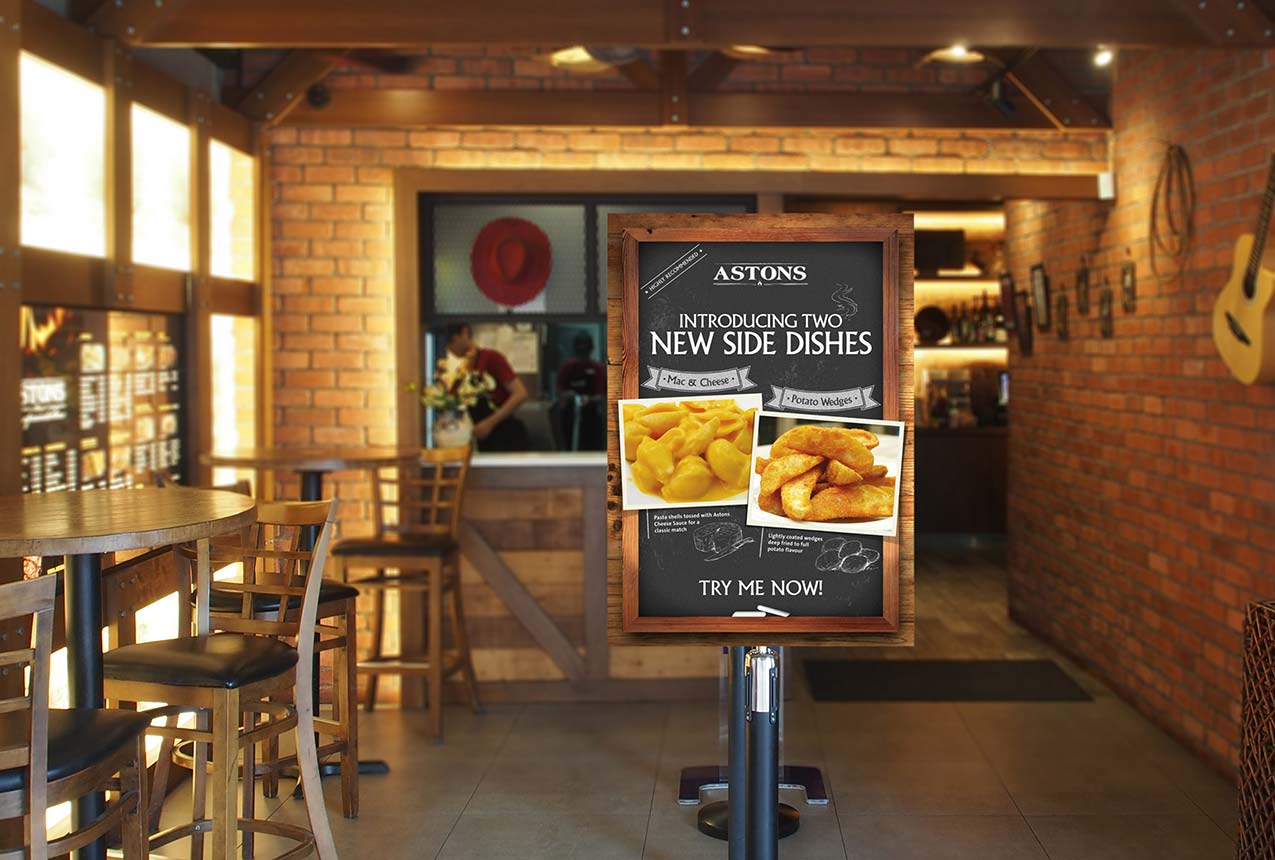 Good Ole Campfire & Steak Formulae
We delved deep into the "all western American feel" for the kind of restaurant brand that Aston himself had envisioned. For main menu items – a range of really good quality steaks, augmented with a few fish and chicken dishes. For value for money – all mains were priced close to hawker fares with a selection of sides that patrons could choose to go with their main meals. For the experience – a casual yet warm dining ambience, decked with booth seats. For in-dining service – a simple, fuss-free ordering process with friendly staff. That in a nutshell, encapsulated the essence of localising a mid-western brand.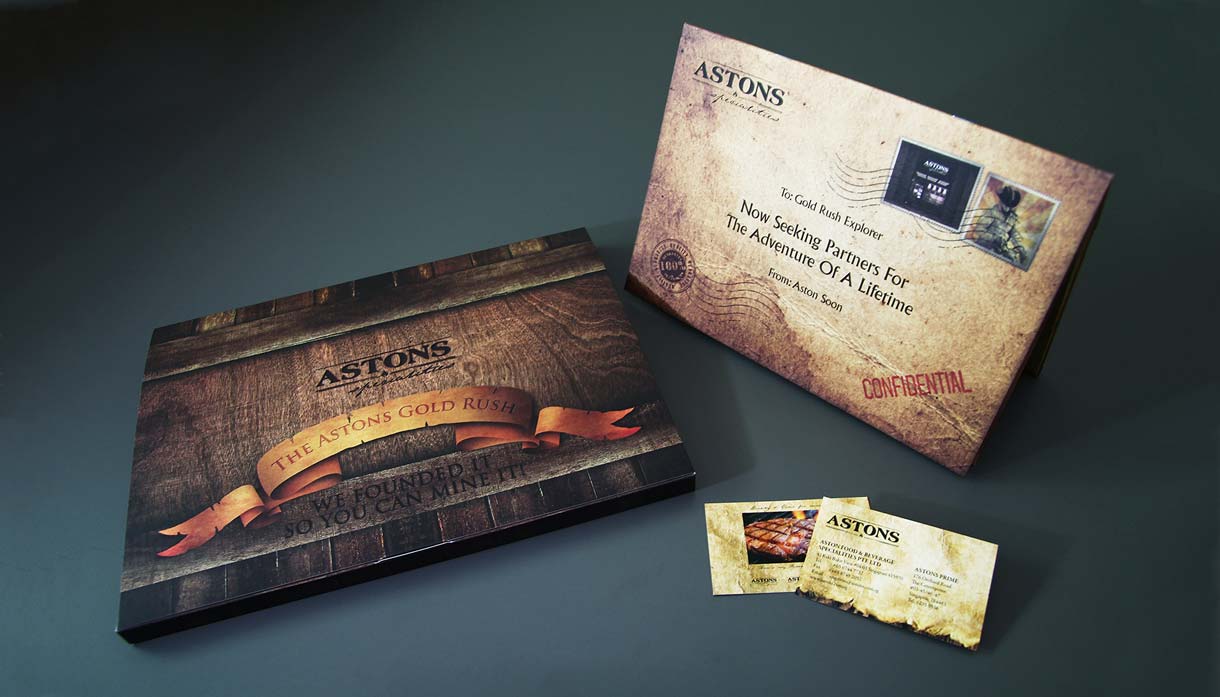 For the brand's look and feel, we created a simple yet robust brand identity that would attract patron groups which appreciated a well-cooked steak, served in a warm friendly setting at a truly great value. We were guilty of creating the perception of a foreign brand that's truly from the west!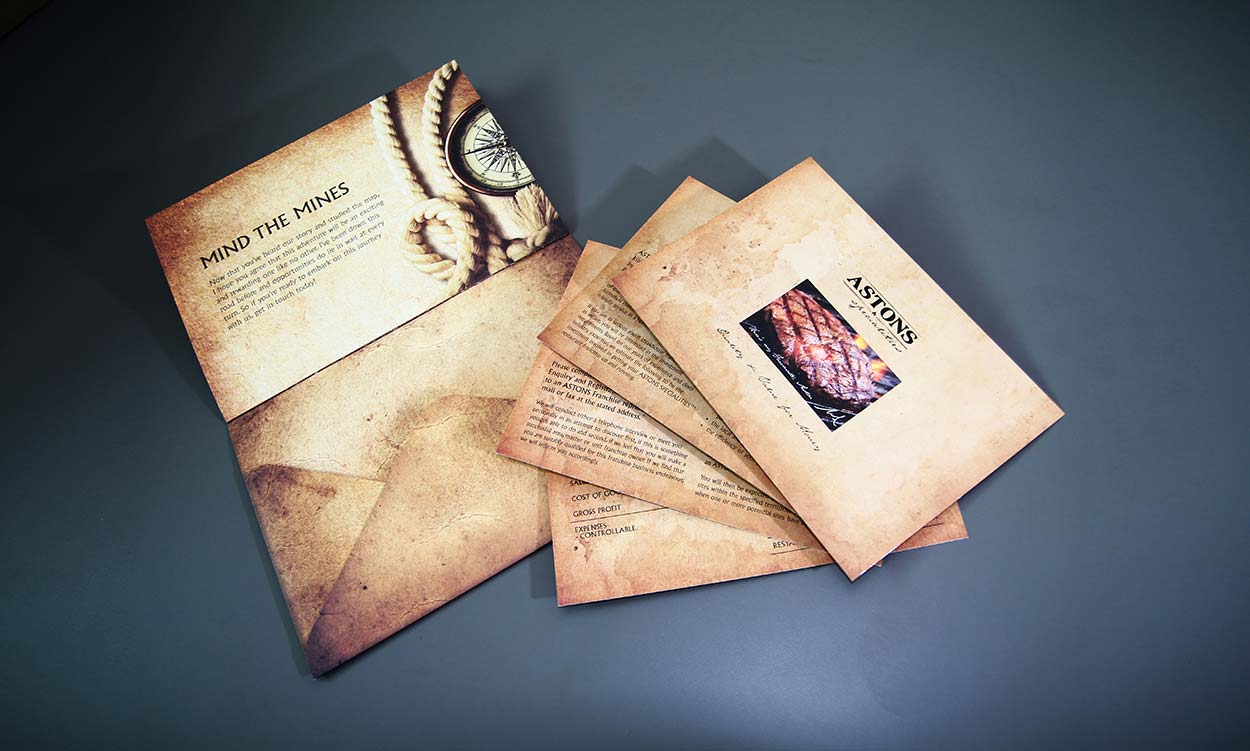 The ASTONS' logo is rendered in the duotones of white and earth to convey the brand story suitably. The master brand carries a typeface that is sufficiently unique yet instantly recognisable. It is supported by a cursive typography as the descriptor to differentiate various business models. The open campfire element as a part of the brand identity is placed within the supporting lines at the base of the logo. Transposed as a restaurant signage, the brand guidelines prescribed the use of dark wooden accents against white unpolished surface.
Characteristic of any mid-western F&B establishment, patrons will find Western-themed posters dotting the walls of ASTONS, earthy tones used for most of the interiors including flooring, complete with a pair of swinging saloon doors! It's no surprise that the crew at ASTONS had to be trained to manage long queues from the get go for every outlet that's open since the year 2005.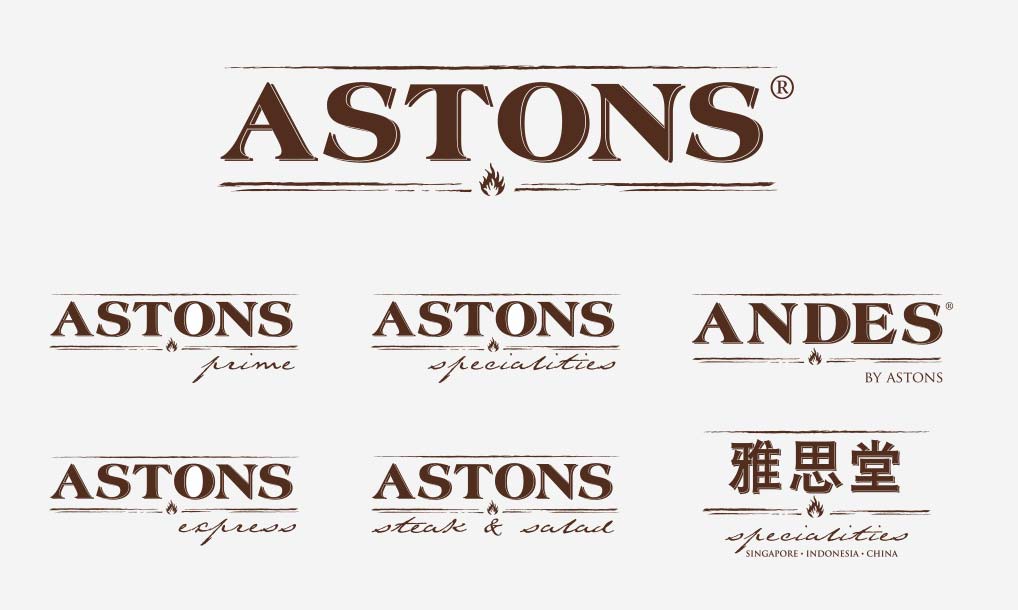 Since the inception of ASTONS Specialities and the successful launch of over 20 outlets in Singapore, we had the pleasure of developing the ASTONS brand architecture development to include its Chinese name/logo, ASTONS Academy, ASTONS Express, ASTONS Prime Steak & Salad Bar, and ANDES by ASTONS, a halal brand extension as part of the Astons' branded house architecture.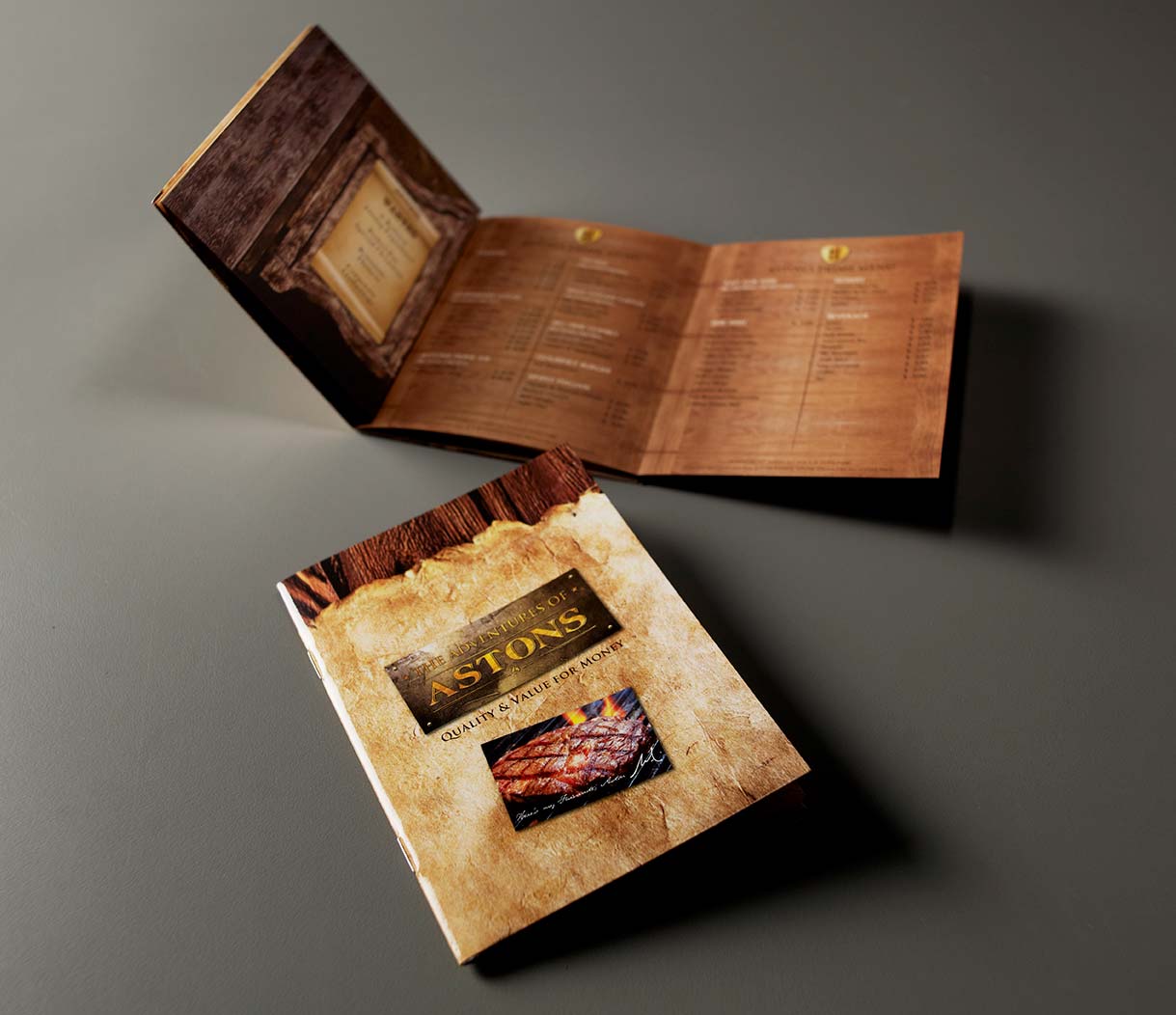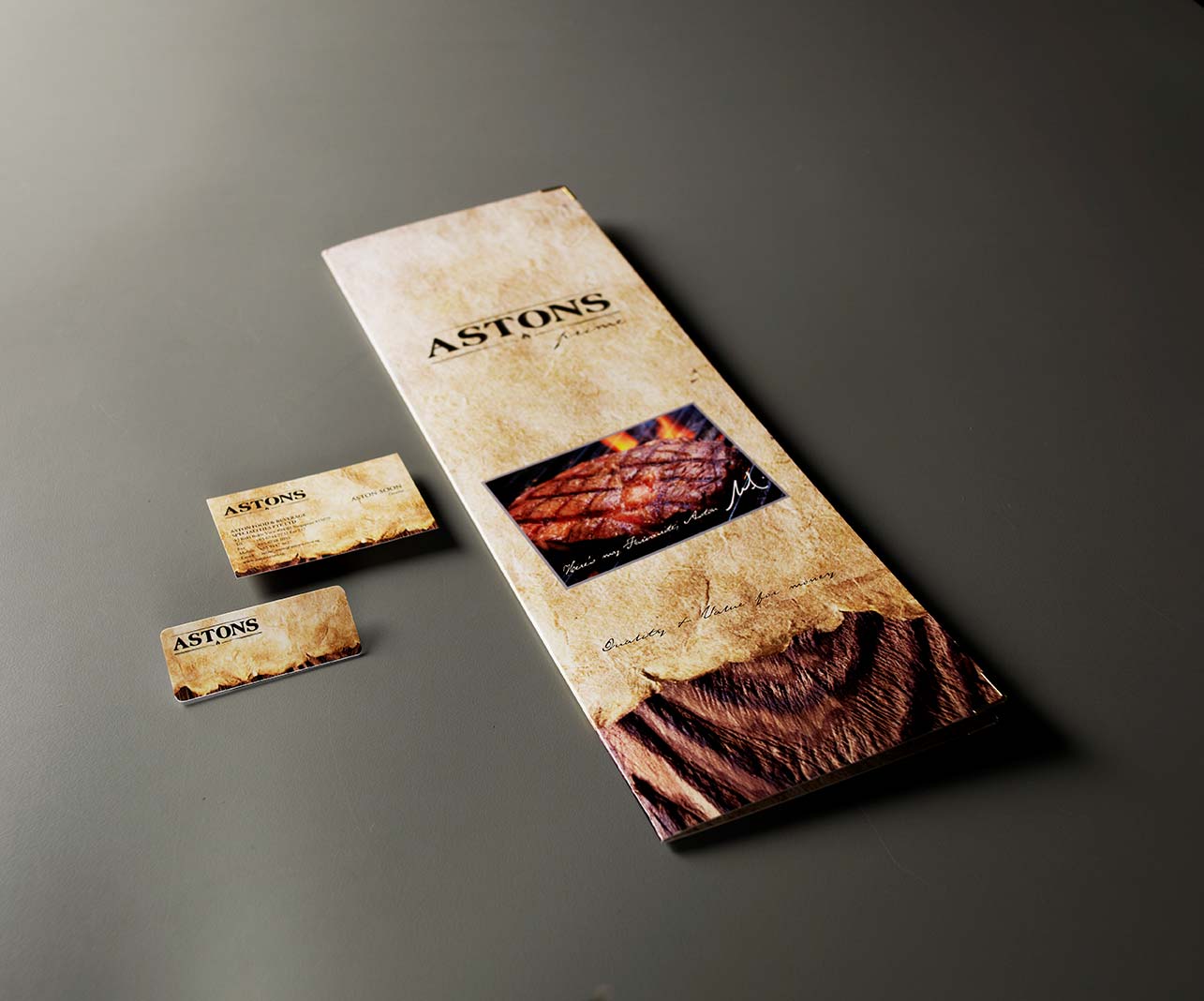 Interview with Aston Soon
Restaurant Name
Brand Architecture
Brand Identity
Brand Positioning
Brand Strategy
Brand Voice
Competitive Audit
Signage & Environmental Designs
Uniforms
Digital & Social Media Advisory
Menu Design & Production
Point of Sale (POS) Materials Design & Production
Copywriting
Brand Franchise Kit
A brand is only as captivating as the story that lies behind it. Welcome to Sea Story, a brand that places sustainability at the heart of everything they do – from the naming to the fishing to the packaging, it is always omnipresent in their equation. Behind the name is a modern tale of sustainable sourcing and responsible food choices and a lifelong commitment to environmentally-friendly practices that will continue living in stories to be told to the future generations to come.
How does a well-established property development group known since 1999 as a developer and constructor of reliable good class properties, particularly in the industrial and commercial sector, continue to sustain growth in a competitive landscape?