East Ocean Teochew Restaurant
Tradition Meets Modernity
East Ocean is one of the best living examples of an amalgamation between tradition and modernity. Time stops for no man – in order to keep up with the ever-changing technological advances, they had to start making substantial changes within their organization. The first major project Concept Lab worked on for the restaurant was their corporate website. Everything you see from the design layout to the site mapping was thought through intricately with one key objective in mind – to elevate user experience. And we did just that.
A photoshoot was put to work for the entire digital campaign as well. They say that a picture speaks a thousand words – our team has no doubts about that saying at all. It is one thing to capture images, but another to make the dishes look so tantalising that you just want to reach out for the screen and grab what you see on it.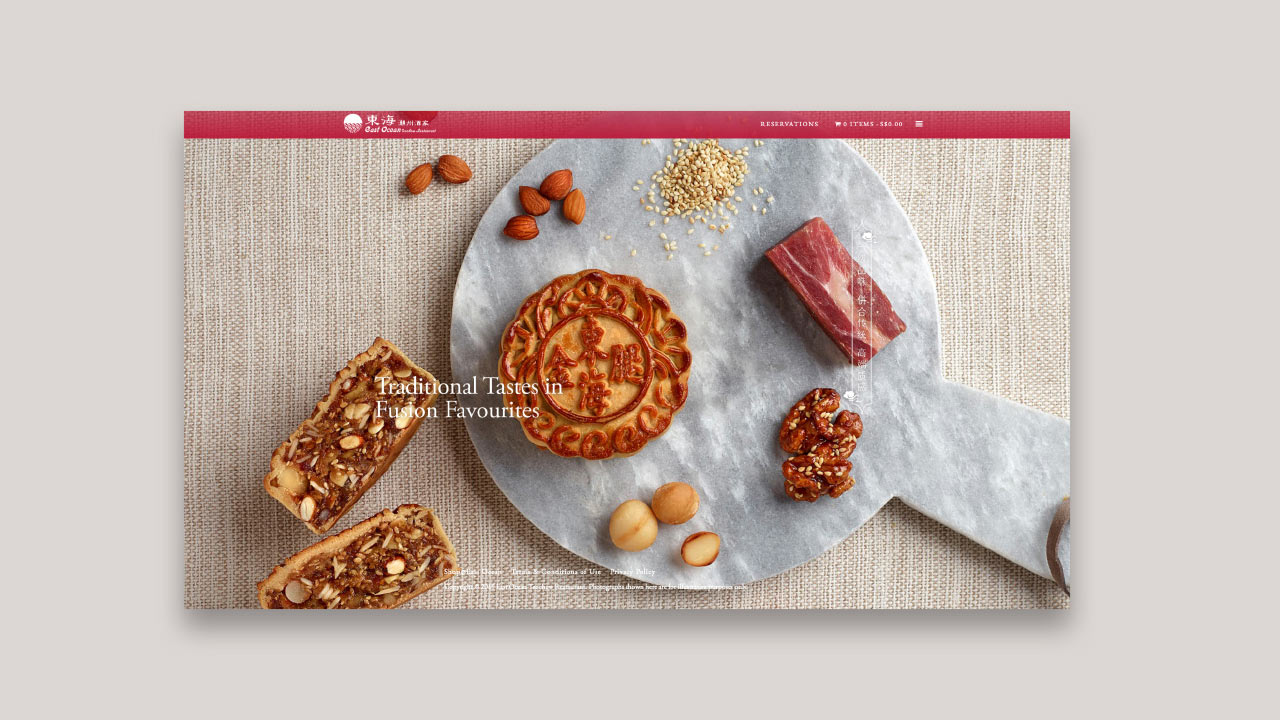 Brick-and-Mortar to Virtual
Have a good look around you and you will find at least a few people fixated on their smart devices. Moving along with the times, it was tough not to hop onto the tech-savvy bandwagon and have an electronic shop set up on their website as well. Concept Lab created one coined as Shop @ East Ocean for the client so that their customers could easily order the restaurant's signature dishes and snacks from them anytime, anywhere at the ease of their fingertips. This proved to be a right move for East Ocean as their sales were visibly raking in more than usual after the electronic shop went live in 2017.
East Ocean is renowned for their delectable mooncakes so we made use of that during Mid-Autumn Festivals year after year for seasonal campaigns. A dual-pronged marketing effort on their social media and Google along with a crystal-clear understanding on the client's products is the formula for the campaigns' success. The achievements can be seen from the animated graphic below.
The aforementioned visuals were also adapted into other marketing collaterals for East Ocean, including the wall murals for their yearly affair at the Takashimaya mooncake fairs as well as tangible order chits for their brick-and-mortar restaurant and miscellaneous orders.
Brand Architecture
Brand Identity & Signage
Brand Positioning
Brand Strategy
Brand Voice
Competitive Audit
Above-The-Line Advertising
In-mall Collaterals
Retail Promotions Flyer
Point of Sale (POS) Materials Design Photography
Production
Copywriting
How does a well-established property development group known since 1999 as a developer and constructor of reliable good class properties, particularly in the industrial and commercial sector, continue to sustain growth in a competitive landscape?
Simple & Luminous Modernity. It is a three-storey retail centre spanning 89,000 square feet. The Alexandra Retail Centre (ARC) is to be a haven promising sweet reprieve, from the daily grind for workers and nearby residents alike…