A brand is only as captivating as the story that lies behind it. Welcome to Sea Story, a brand that places sustainability at the heart of everything they do – from the naming to the fishing to the packaging, it is always omnipresent in their equation. Behind the name is a modern tale of sustainable sourcing and responsible food choices and a lifelong commitment to environmentally-friendly practices that will continue living in stories to be told to the future generations to come.
The brandmark was designed with a modern and minimalistic approach in mind, aligning to Sea Story's underlying brand philosophy. The three azure blue curves were inspired by the ocean waves which symbolise continuity in dynamics and also a nod to mankind's interdependency; a reminder that what we do today will make a deep and direct impact in the future.
Besides paying attention to the environmentally-conscious part of you, many discerning individuals also seek for convenience in their daily lives. Convenience is one thing, but not compromising the food quality is another – Sea Story looks to provide the convenience of enjoying good food anytime, minus the hassle. Put on your chef's toque blanche and spice up your meals – each box of fish comes with a specially-formulated gourmet sauce that enables you to have your nutrition-packed meal on the go or the occasional dinner party you are throwing at home. The prime tuna poke cubes featured above comes with a Hawaiian hula sauce, oh là là!
The more you look at Sea Story, the more care and love you would see overflowing from its seams – the brand communication here articulates all the information you would ever need and want to know about the product. An information-rich design educates, enriches and provides key facts and figures for consumers.
Poke Up! is a retail concept poke stall for Sea Story, and is also a play on the beach lingo 'Surf's Up!'. The protagonist behind this concept is Joe, a surfer turned poke chef. Joe's a sun and wave lover and his pursuit for the perfect waves brought him to sunny Hawaii. The theme of the stall represents his vibrant and cheerful outlook and his love for nature and all things simple. Bright yellow hues paired with a spectrum of oceanic blue hues really hit the spot for passers-by with their pop-up exhibition booth. Dozens of exhibition-goers could not help but constantly come forward to the booth wanting to try their sampler bowls… Who could blame them at all?
The exclamation mark of the logo represents a spoon digging into a fresh bowl of poke, signifying the marriage between Joe's surfer life and his never-ending love for poke. With a belief to serve the most decadent poke bowls to consumers with lightning speed and convenience, this niche concept appeals to urban city-dwellers who are always constantly busy and looking for a quick and easy way to get a fresh and healthy meal on the go. With Sea Story and Poke Up, we encourage you to #SeasTheDay and live fuss-free.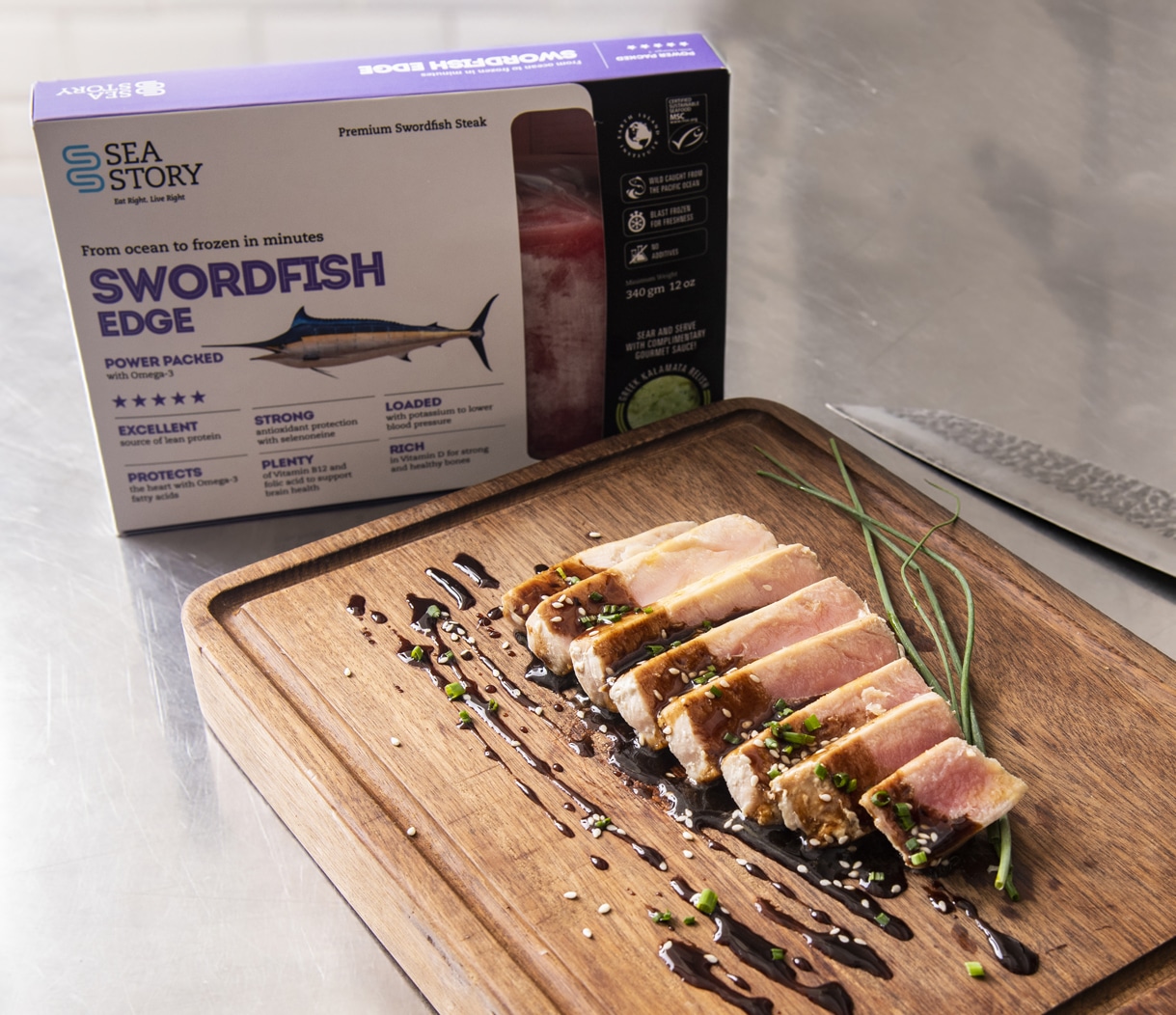 Brand Architecture
Brand Identity & Signage
Brand Positioning
Brand Strategy
Brand Voice
Competitive Audit
Above-The-Line Advertising
In-mall Collaterals
Retail Promotions Flyer
Point of Sale (POS) Materials Design Photography
Production
Copywriting
It started out as one man's dream – quality Western cuisine to the masses at affordable prices. A feeling that's akin to eating out in the wild west, of having that dinner steak done perfectly over open fire, plus the pleasure of seeing patrons returning regularly for a satisfying value-for-money meal, like friends.
How does a well-established property development group known since 1999 as a developer and constructor of reliable good class properties, particularly in the industrial and commercial sector, continue to sustain growth in a competitive landscape?